PRODUCT INFORMATION
SHIPPING & RETURN
CUSTOMER REVIEWS
*GREAT MATERIAL: 100% full grain leather with nylon textile upper for breathability. Cordura fabric reinforcements for durability. Excellent ventilation and quick-dry material, suitable for wet weather. Recommended for spring, summer and autumn.

*LIGHTWEIGHT & COMFORTABLE: The total weight for these biggest combat outdoor desert shoes is about 900g(1.98lb).An EVA midsole gives lightweight comfort and cradled support ,a high-density insole cushion make our tactical boots reduce foot fatigue during long work.

*FIT & DURABLE - Made of US size. Inside with flexible lycra cloth, comfortable and wear-resistant. Suede leather toe cap. Ankle boot's tongue prevents pebbles, sand, dirt and other debris from entering your tactical shoes.

*ANTI-COLLISION: Special anti-impact and kick design, wear-resistant rubber, protects the heel and toe from impact injuries. Heel measures approximately 1.2 inches (3cm); Shaft measures approximately 7.8 inches (20cm).

*ANTI-SKID & SHOCK ABSORPTION: The military boot is made of durable and abrasion resistant rubber sole with brake transverse groove, middle part shock absorption, tail anti-slip and two-way drainage area. The curved grooves improve grip and balance.Comfort is also guaranteed during the hot summer. Perfect for travel, combat outdoor, desert, jungle, etc.
Description

Leather Upper + EVA midsole + Rubber sole. The sole is made of high-quality EVA with high resilience and high tensile strength, high toughness and good shock and cushioning properties.

Closure Type: Lace-Up

Use: These hiking boots are perfect for outdoor adventures, including cycling, hiking, and even fishing.

Size:

Size 7 D(M) US(foot lenght: 9.8in)

Size 8 D(M) US(foot lenght: 10.in)

Size 9 D(M) US(foot lenght:10.2in)

Size 10 D(M) US(foot lenght:10.4in)

Size 11 D(M) US(foot lenght:10.6in)

Size 12 D(M) US(foot lenght:10.8in)
[size_chart]
[/size_chart] [size_chart]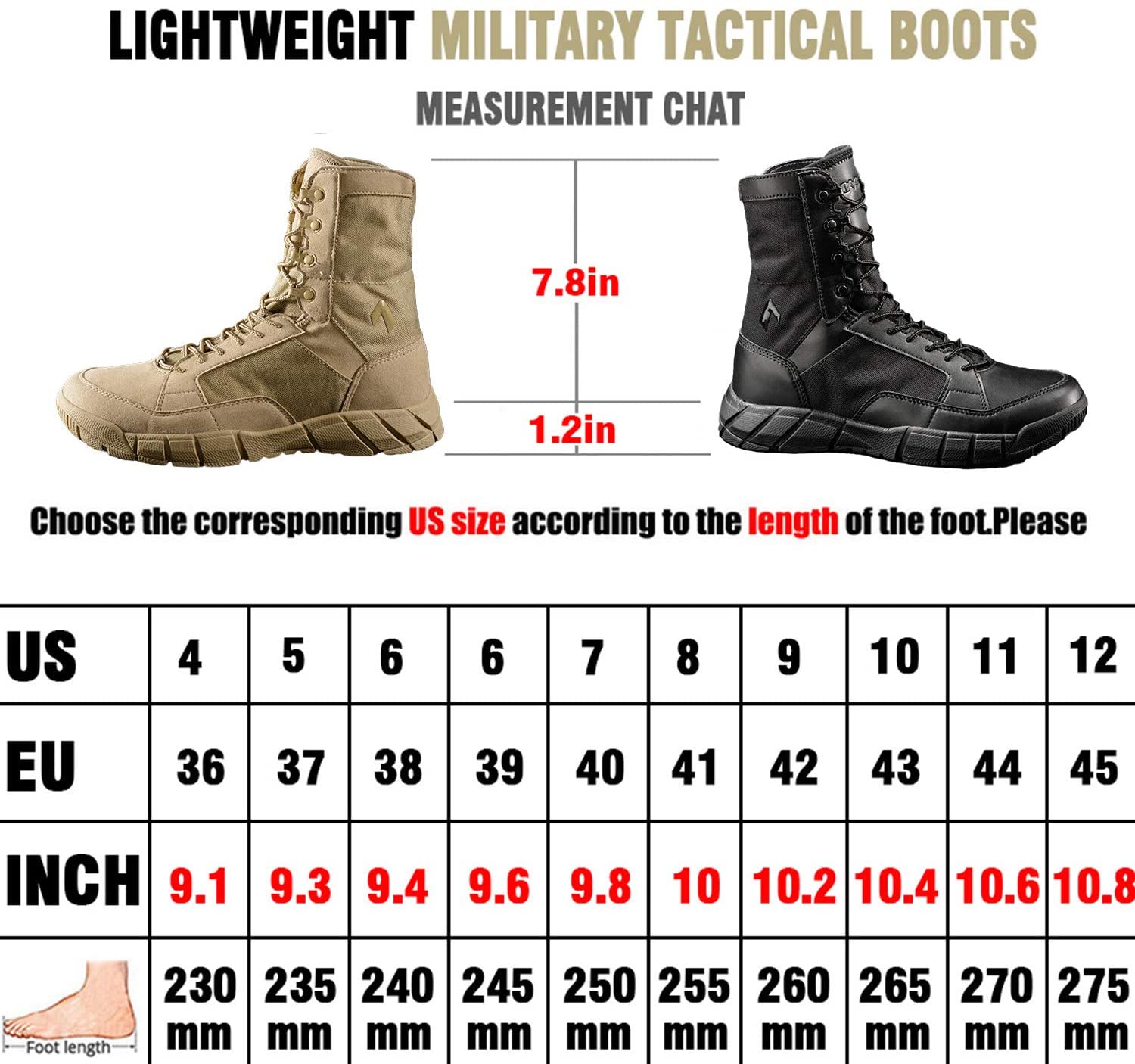 [/size_chart]
Delivery Time = Processing Time + Shipping Time

Processing Time:
24-48 Working Hours

Shipping Cost:
Standard Delivery:
0 USD(Orders over 45USD)
8 USD(0-45USD)
Priority Expedited Shipping 20 USD
Shipping Time:
Standard Shipping 3-18 Days
Priority Expedited Shipping 2-7 Days

30-Day RETURN:

We want you to feel comfortable and confident when shopping at ANTARCTICAOUTDOORS, that's why we offer an easy 30-day return & exchange policy
Pleasantly surprised
I have to admit that when I first received these boots and unpacked them my first thought was, great another cheap item from over seas. The boots look great, but they seemed really thin and cheaply made. The biggest culprit that made me skeptical is the gusset. I have been wearing Iron Rangers for the past 3 yrs and have finally wore out the sole and have to get them redone. In the mean time I needed something to wear for work. The gusset in the Rangers are amazingly constructed, while the gusset in these boots look as if a couple pieces of canvas were just sewed on. The first time I wore these for the whole day I brought a back up pair of boots just in case these boots gave me a blister or fell apart, that was Monday morning. It is now Friday and after a week of wearing these boots for 12 hrs every day, this is my take away.
1. In order to put these on you have to unlace the top half. No big deal
2. Very light
3. Very comfortable, more comfortable then my Iron Rangers.
4. Seems to be very durable I'm in construction so they are getting abused daily and are taking it like a champ.
5. They have pretty decent traction
6. Feet do not get hot, great at moister
wicking.
7. Provides good protection
It's only been a week that I have been wearing these so durability is going to be a question but so far so good. I would like to have more time with these boots before I can recommend these, but for now I'm extremely happy.
super lightweight, good traction, durable feeling material, bug out bag/get home bag
Supremely lightweight, which initially concerned me. But after putting them on, I determined that they will work out just fine. I take a size 10.5/11 womens, and so that would be a size 9 in mens. I usually wear thicker socks with boots, so I always go up a size to accommodate, and so I chose size 10 in these.They feel a tad narrow, but they do fit my wide width feet, and the added length is not cumbersome. The laces are sturdy, and the overall feel is pretty durable. Only time will tell how well these hold up. My main use is for hiking, and I will keep these in my car for my random drives that lead to hikes. I like the added length up the leg that combat style boots offer. The secondary use is for emergency shoes, uh.. "get home shoes", or "bug out shoes". If you know you know. I always have a bag in my car with a few comfort goodies, and some needful items if I found myself having to either abandon the car, or if I suddenly had to take off. Have had this in play since I first started driving in the 90s. These being extra lightweight keeps my bag from being weighed down. Especially good if I dont necessarily need these but want them with me to swap out to.Center arch area is firm. I can try to twist the shoe or bend the shoe, but there is no significant flexibility. This lends to good structure, and really comes down to adding an insert if needed for added comfort.Product description mentions ventilation and drainage. There are what appears to be two holes along the side, similar to what we see in converse, but the holes are solid. I think they need to be poked through in order to be vent/drain holes. I am not sure if I like this. Yet I kind of like that them being closed makes it an optional thing (so long as making them into holes is easy--I havent tried).